Appalache Real
FRAME OVERVIEW
After Balfa brand had gone to UK, the original Balfa philosophy stayed in Canada, where Jerome Roy (Balfa co-founder) prepared the successor of Balfa BB7 under new name - Appalache Cycles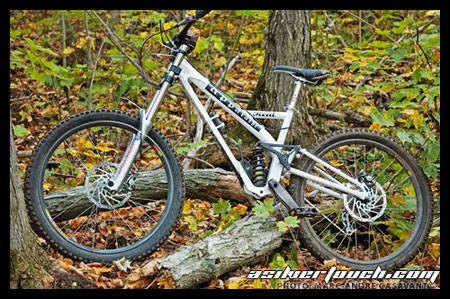 The Real utilises all unique Balfa's idea and solutions (see "BB7 Frame overview" for details):
High pivot suspension design with chain pulley;
"Parallel trajectory" axle path;
Aluminum front, Cr-Mo swingarm.
But it is also:
Lighter - 9.5 lbs (4320 g) with FOX DHX with titanium spring;
Lower bottom bracket, lower top tube;
Shorter chainstay and wheelbase.
A bit simplier - less complicated swingarm links and pulley location
THE DIFFERENCE
As users and reviews report, the Real maintains BB7's advantages due to similar high pivot suspension design - the frame still maintain momentum over rough impacts and has stable wheel base. However, weakest points of old design were improved - frame is lighter, shorter and lower, therefore it can be much more agile and nimble at low speeds, while still being stable at high speed.
So, you may ask, is this bike better, than BB7? Yes, it is.
See "Links" below for more information.
BALFA VS. APPALACHE GEOMETRY COMPARISON
For details about Balfa BB7 geometry go to "Geometry data" page.
Balfa BB7
(Regular)
Appalache Real
(Medium)
Imperial
(inches)
Metric
(mm)
Imperial
(inches)
Metric
(mm)
Seat Tube length
16.6
422
15.5
393.7
Top Tube length*
23
585
23.25
590.5
Head Tube Angle
66°
66°
Seat Tube Angle
63°
69°
Chainstay Length
16.9
430
16.25
413
Wheelbase
45.2
1149
?
?
Bottom Bracket Height
15
380
14.75
375
Head Tube Height
4.6
118
4.5
114
* Appalache Real is available in two sizes:
Small - 21.75" (552.4 mm) top tube
Medium - 23.25" (590.5 mm) top tube (used for comparison)
Important note: Geometry data above is based on official website and applies for first frames made. Currently available model has slightly modified geometry.
TECHNICAL DETAILS
Visit "Technical data" for comparison with the BB7. Generally, these parameters stay pretty much the same.
Rear wheel travel - 9.1" (231 mm)
Seatpost diameter - 27.2 mm
Seatpost collar diameter - 31.8 mm
Headset - 1 1/8"
Rear axle width: 135 mm (standard 9 mm QR or 10 mm thru-axle hubs)
BB shell width - 73 mm
Shock length x stroke: 222 mm (8.75") x 70 mm (2.75")
SUSPENSION DESIGN
The Real's suspension is generally similar to Balfa BB7 - see BB7 Frame overview and BB7 Suspension design for general idea and details.
Suspension characteristics (red line shows type of suspension rate) and axle path (dimensions in milimeters):
You can download Appalache Real layout for Linkage2 here (view BB7 suspension design for details and program download)
PHOTOS
LINKS
For more information about Appalache Real visit: