Balfa Belair
FRAME OVERVIEW
Balfa Belair is a 4.4" (112 mm) travel frame dedicated for XC, enduro and all mountain use.
Just like all Balfas, with a sturdy 6061 alloy front end and 4130 cro-mo swingarm, this frame is built to last, yet it weighs just 6.25 lbs (2.8 kg). A simple single pivot design ensures simplicity and requires substantionally less maintenance than a linkage frame. With the pivot located in the optimum spot the frame rides and pedals like nothing else and Balfa's customary steel rear takes out all of the small vibrations even more.
The most characteristic part of Belair is the rear shock mounted inside the top tube.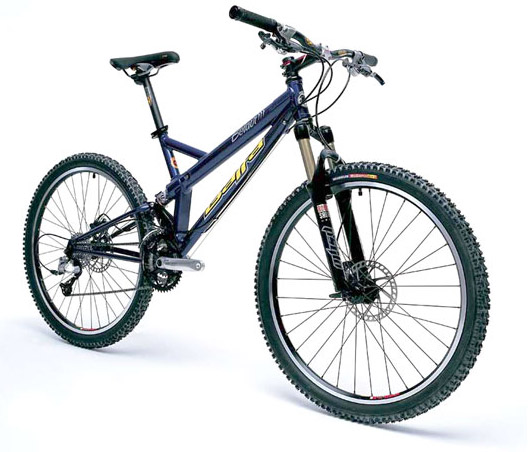 GEOMETRY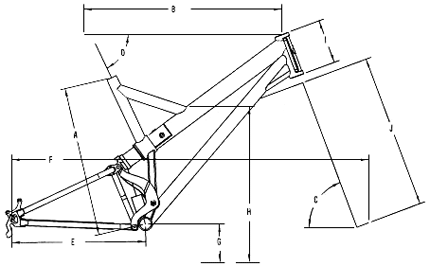 Imperial dimensions (inches)
SIZE
Small
Regular
Large
A
Seat Tube length
16.5
18.0
19.5
B
Top Tube length
22.0
23.7
24.9
C
Head Tube Angle
70°
D
Seat Tube Angle
65°
E
Chainstay Length
16.0
F
Wheelbase
41.0
43.0
44.0
G
Bottom Bracket Height
13.4
H
Standover Height
26.8
27.5
28.0
I
Head Tube Height
4.6
5.3
5.3
J
Fork length
18.5
Metric dimensions (mm)
SIZE
Small
Regular
Large
A
Seat Tube length
419
457
495
B
Top Tube length
559
603
633
C
Head Tube Angle
70°
D
Seat Tube Angle
65°
E
Chainstay Length
406
F
Wheelbase
1039
1083
1113
G
Bottom Bracket Height
341
H
Standover Height
680
699
712
I
Head Tube Height
118
135
135
J
Fork length
470
TECHNICAL DETAILS
Frame weight - 6.25 lbs (2840 g) with Fox Float RL
Rear wheel travel - 4.4" (112 mm)
Rear shock size - 6.5 x 1.5" (165 x 38 mm)
Seatpost diameter - 27.2 mm
Seatpost collar diameter - 31.8 mm
Headset - 1 1/8"
Rear axle width: 135 mm
BB shell width - 73 mm
BB axle length - 113 to 116 mm (depending on chainline)
Front derailleur - down swing, down-pull (with 31.8 mm collar)
Tyre clearance - 2.35"
Pivot bearings - 6001 RS (two)
SUSPENSION DESIGN
Belair uses simple single pivot (unlike 2Steps) suspension with pivot point placed typically around middle chainring (unlike the BB7).
Suspension characteristics (red line shows type of suspension rate), axle path (dimensions in milimeters) and chain growth:
You can download Belair layout for Linkage2 here (view BB7 suspension design for details and program download).
LOGO AND DECALS
If you need to print a new set of stickers for your Balfa, visit common "Logo and frame decals" section.
PHOTOS
LINKS
For more information about Balfa Belair visit: