Balfa BB7 suspension design
HIGH PIVOT, PARALLEL TRAJECTORY
For details, please view "Frame overview". Generally, the BB7 has high single pivot suspension design, providing rear axle path nearly parallel to front wheel's movement. Thanks to that, bike maintains speed better over high impact sections and has nearly constant wheel base.
The best way to illustrate this is free Linkage application (go to bottom of this page to download the program and the BB7 project).
IMPORTANT NOTE: Free version of Linkage doesn't allow to fully reproduce design including pulley guiding the chain in the way Balfa does. Therefore, chain growth data is not relevant.
SUSPENSION MOVEMENT ANIMATION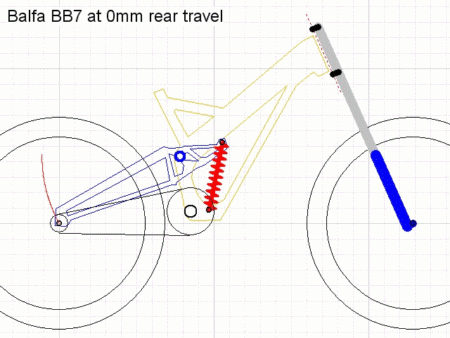 Animation by MMcG25
DIAGRAMS - CHARACTERISTICS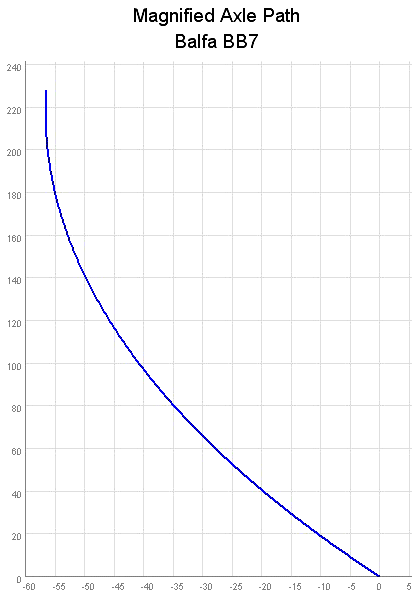 The axle movement is definitely rearwards through the whole travel. Tris transfers to better speed carying through rough sections of the trail. Also it makes wheel base more constant due to movement nearly parallel to front wheel axle path.
What you can see above, is that generally BB7 has falling rate suspension in first 80 mm of travel and then it's rising rate
LINKAGE DOWNLOADS
Click to download:
You can find more information about 2Step FR, 2Step 4X, 2Step HD, Belair and Appalache Real suspensions in their sections of the site.