FRAME OVERVIEW
Balfa 2Step FR is a 5.4" (137 mm) travel frame dedicated for enduro, all mountain and freeride use.
It's meant for all day riding and going up before hammering down. Features the Balfa 2-Step linkage allowing for good pedalling efficiency as well as plush suspension. As all full suspension Balfas, it has beefy alloy front end and Cr-Mo rear end. Producer claims that this frame is tough enough for DH and light enough for XC duties.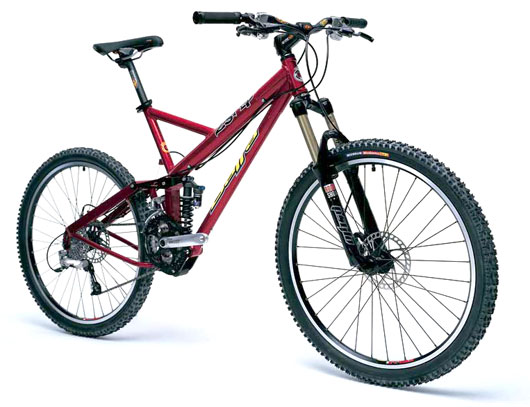 GEOMETRY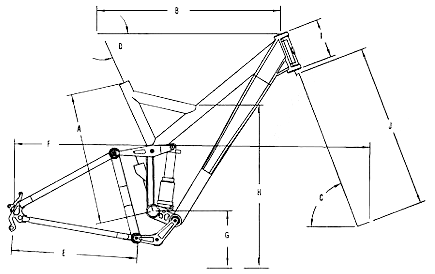 Imperial dimensions (inches)
SIZE
Regular
Large
A
Seat Tube length
15.9
17.4
B
Top Tube length
22.2
23.4
C
Head Tube Angle
69°
D
Seat Tube Angle
65°
E
Chainstay Length
16.9
F
Wheelbase
43.0
44.0
G
Bottom Bracket Height
14.3
H
Standover Height
27.4
28.2
I
Head Tube Height
4.6
J
Fork length
19.9
Metric dimensions (mm)
SIZE
Regular
Large
A
Seat Tube length
405
443
B
Top Tube length
564
595
C
Head Tube Angle
69°
D
Seat Tube Angle
65°
E
Chainstay Length
429
F
Wheelbase
1093
1119
G
Bottom Bracket Height
364
H
Standover Height
696
717
I
Head Tube Height
118
J
Fork length
505
TECHNICAL DETAILS
Rear wheel travel - 5.4" (137 mm)
Rear shock size - 7.875 x 2.0" (200 x 50 mm)
Seatpost diameter - 27.2 mm
Seatpost collar diameter - 31.8 mm
Headset - 1 1/8"
Rear axle width: 135 mm
BB shell width - 73 mm
BB axle length - 113 to 116 mm (depending on chainline)
Front derailleur - down swing, top-pull (with 31.8 mm collar)
Tyre clearance - 26 x 2.5"
Pivot bearings - 6001 RS (eight)
SUSPENSION DESIGN
2Step is suspension design with temporary (moving with compression) pivot point. It is very similar to Maestro, or DW Link. Such design's advantages are good pedalling efficiency (little to none pedal bob) and close to none suspension feedback under braking (brake-jack).
Animations by MMcG25
Suspension characteristics (red line shows type of suspension rate), axle path (dimensions in milimeters) and chain growth:
You can download 2Step FR layout for Linkage2 here (view BB7 suspension design for details and program download).
LOGO AND DECALS
If you need to print a new set of stickers for your Balfa, visit common "Logo and frame decals" section.
PHOTOS
LINKS
For more information about Balfa 2Step FR visit: