FRAME OVERVIEW
The Balfa 2Step 4X shares its frameset with the 2004 2Step FR, but uses changed link plates. The plates reduce the bike's travel from 5.3 to 4.3" (110 mm), slightly rake the head-angle out into 67 degrees and drop bottom bracket height to 13.5" (344 mm). It's built for 4X racing, slopestyle, jumping and general goofing around.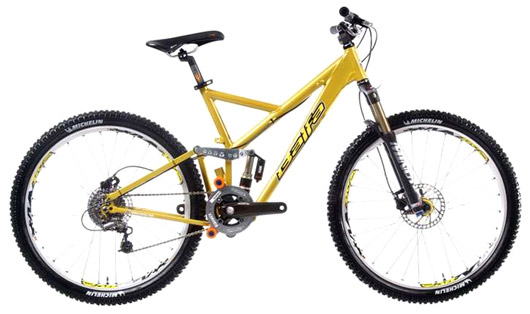 GEOMETRY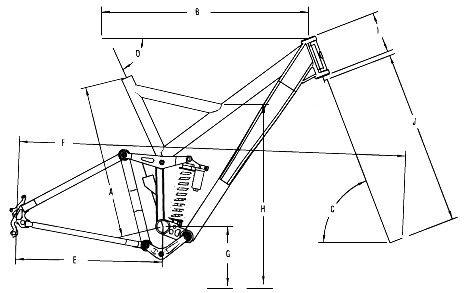 Imperial dimensions (inches)
SIZE
Regular
Large
A
Seat Tube length
16.0
17.5
B
Top Tube length
22.2
23.4
C
Head Tube Angle
67°
D
Seat Tube Angle
66°
E
Chainstay Length
16.6
F
Wheelbase
43.0
44.0
G
Bottom Bracket Height
13.5
H
Standover Height
26.7
27.6
I
Head Tube Height
4.6
J
Fork length
19.9
TECHNICAL DETAILS
Rear wheel travel - 4.3" (110 mm)
Rear shock size - 7.875 x 2.0" (200 x 50 mm)
Seatpost diameter - 27.2 mm
Seatpost collar diameter - 31.8 mm
Headset - 1 1/8"
Rear axle width: 135 mm
BB shell width - 73 mm
BB axle length - 113 to 116 mm (depending on chainline)
Front derailleur - down swing, top-pull (with 31.8 mm collar)
Tyre clearance - 26 x 2.5"
Pivot bearings - 6001 RS (eight)
SUSPENSION DESIGN
2Step is suspension design with temporary (moving with compression) pivot point. It is very similar to Maestro, or DW Link. Such design's advantages are good pedalling efficiency (little to none pedal bob) and close to none suspension feedback under braking (brake-jack).
Animations by MMcG25
Suspension characteristics (red line shows type of suspension rate), axle path (dimensions in milimeters) and chain growth:
You can download 2Step 4X layout for Linkage2 here (view BB7 suspension design for details and program download).
LOGO AND DECALS
If you need to print a new set of stickers for your Balfa, visit common "Logo and frame decals" section.
PHOTOS
LINKS
For more information about Balfa 2Step 4X visit: