Balfa BB7 technical data
GENERAL DIMENSIONS
Rear wheel travel - 9" (228 mm)
Seatpost diameter - 27.2 mm
Seatpost collar diameter - 31.8 mm
Headset - 1 1/8"
Rear axle width: 135 mm (standard 9 mm QR or 10 mm thru-axle hubs)
BB shell width - 73 mm
BB axle length - 113 to 116 mm (depending on chainline)
WEIGHT
Well, this is the hard one... It's tricky to tell the actual weight of the frame because of differences between model years, sizes and even individual frames, but expect something between 9.5 and 9.9 lbs (4300-4500 g) without rear shock for the latest model.
MATERIAL
What is quite unusual, is that BB7's frond end is made of aluminum (6061 T6) while the swingarm is Cr-Mo (4130) steel. Why? You can read it in "Frame oveview" section.
REAR SHOCK
Shock length - 222 mm - 8.75" (7.875"/200 mm on 2000/2001 model)
Shock travel - 70 mm - 2.75" (2.25"/57 mm on 2000/2001 model)
Suspension travel - 228 mm - 9"
Stock BB7's was equipped with FOX Vanilla RC or Progressive Suspension 5th Element (see problem note below).
Note that this is for 2002 and later models. First BB7's had 7.875x2.25" rear shocks
SHOCK MOUNTING OPTIONS
Latest models of BB7 has two upper shock mounting options: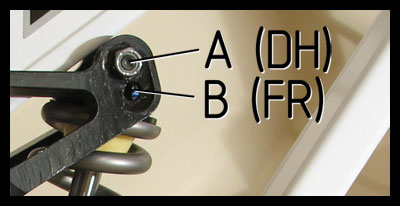 A - slacker setup for downhill - head tube angle 66°, BB height 15" (380 mm)
B - steeper setup for freeride - head tube angle 67.5°, BB height 15.75" (400 mm)
SHOCK RESERVOIR HITTING SWINGARM LIKNAGE PROBLEM
Most modern shocks (eg. 5th Element, Manitou Swinger 6-Way) have large reservoirs, which collide with swingarm linkage brace during compression. This problem only occurs with shock mounted in "slack" position. You can see the effect below: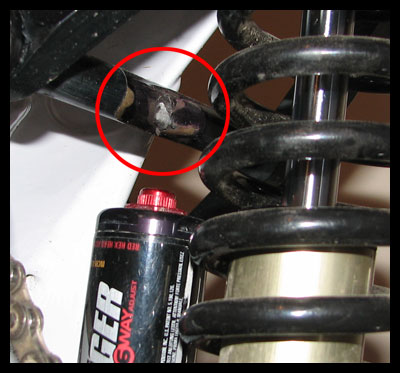 Solutions to these problem are:
Riding in "FR" shock position;
Buying shock with shorter reservoir (most of FOX shocks works ok);
Drilling new hole in the front triangle - slightly in front of standard one (which is not easy, voids warranty, and reduces frame travel);
Making custom linkage brace - with little (1-2 mm) dent where the reservoir comes, or totally custom CNC'd brace (expensive);
Filing about 1 mm of material from stock brace (probably reducing it's strenght);
Living with it.
CHAIN GUIDE POSITIONING
BB7 has ISCG chain guide mounting. As a rule of thumb, thin-plate, single roller chain guides works best. Roller should be positioned about 9 o'clock, while chain should go directly from chainring to frame pulley.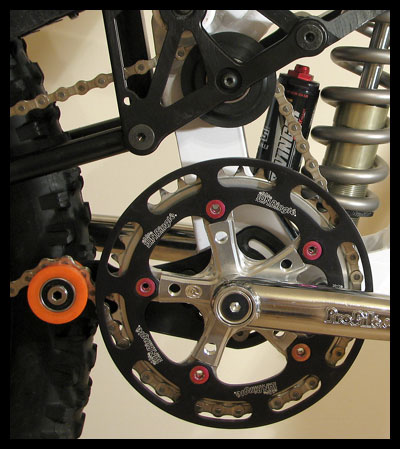 Also the BB7 swing arm, in its original form will accept very big tires. However, the chain device will bring down tire clearance. This can be solved by choosing thin-plated devices or using washers to get the backplate out far enough. E.13 provide guide how to mount their SRS on BB7: click to read - it can be useful for other devices, too.
THE "BALFA PULLEY" SPACING
Once your BB width is found and your crank set and chain device are installed, you should find a good chain line over the BALFA pulley. It's possible to fine tune the chain line by spacing the pulley from the linkg plate.
TYRE CLEARANCE
As said above, swing arm provides great clearance, up to 75 mm width (approx. 2.8" tires), so the actual clearance depends on chain device of your choice. Some Chain guides may bring it down to about 2.3", but if you choose any device with flat inner side of the plate, you shouldn't have problems with tires around 2.5".
Old MRP World Cup System 1 (and similar) should work best.
BEARINGS
Balfa BB7 uses standard size sealed bearings, available at good bearing stores:
Pivot bearings: 6001 RS (two)
Pulley bearings: 6001 RS (one) and 626 RS (one)
Before replacing your bearings it's highly recommended to read this great BB7 pulley and pivot bearings replacement tutorial written by Jeffrey Nelson.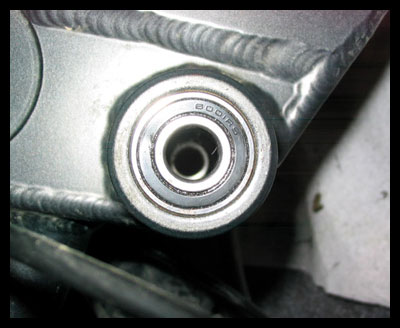 SEAT INSERTION
Your seat post should be inserted in the seat tube with a minimum of 80 mm (3 inches) of the seat post into the seat tube.
Also you have to remember that you need about 80-100 mm (3-4 inches) of seatpost extended above seat collar (you can't completely drop the seat) to leave place for rear wheel when suspension compresses. It really depends on your frame size, seat and seatpost type, so it must be checked before first ride if you want your seat the lowest possible.
CHAIN LENGTH
When setting up your BB7, you will probably need to add a few links to your chain. The unusual chain route requires a longer chain than normal. Make sure your chain is long enough to reach all gears while not pulling too much on the derailleur when the suspension is activated. 6 or 7 extra links are usually enough, but your chain ring size and cassette gearing can make it change.
Stock chain (114 links) *should* be long enough for 36T (chainring) and road casette combo.
FLOATING CALIPER POSITIONING
The floating caliper is offered as an option on 2003 (and newer) BB7 bikes and frames (see "Parts and accesories" for details). It can be mounted three ways on the front triangle:
upper mount - the floating effect of the brake will be accentuated;
middle mount - neutral
lower mount - the floating effect of the brake is decreased.