Balfa MinuteMan
FRAME OVERVIEW
MinuteMan is meant to be general "play bike" use. Has a reputation of an excellent freeride bike. It's also a very refined steel racer. Perhaps not as overbuilt as some options, but it's more conventional geometry and lighter weight make this more versatile then most of the other "play bike" frames on the market.
MinuteMan has Tig welded 4130 Cr-Mo tubing, headtube transfer gussets, tubular seatstay brace, 5/8" by 1 1/4" (16 x 32 mm) box section rear stays, welded unbraced yoke design for increased mud clearance. Notched drive side chainstay for increased drivetrain clearance, preserving the chain line.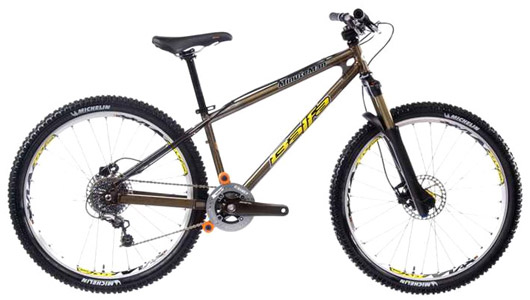 GEOMETRY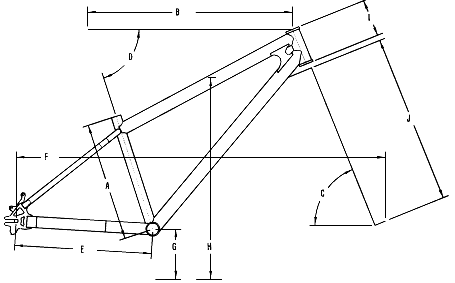 Imperial dimensions (inches)
SIZE
Regular
Large
A
Seat Tube length
13.5
B
Top Tube length
22.3
23.3
C
Head Tube Angle
68°
D
Seat Tube Angle
72°
E
Chainstay Length
16.0*
F
Wheelbase
41.0
42.0
G
Bottom Bracket Height
12.4
H
Standover Height
29.5
I
Head Tube Height
4.25
J
Fork length
19.3
Metric dimensions (mm)
SIZE
Regular
Large
A
Seat Tube length
343
B
Top Tube length
563
591
C
Head Tube Angle
68°
D
Seat Tube Angle
72°
E
Chainstay Length
406*
F
Wheelbase
1050
1077
G
Bottom Bracket Height
314
H
Standover Height
750
I
Head Tube Height
108
J
Fork length
490
* Chainstay is adjustable between 16" and 17" (406 - 432 mm).
TECHNICAL DETAILS
Seatpost diameter - 26.8 mm
Seatpost collar diameter - 28.6 mm
Headset - 1 1/8"
Rear axle width: 135 mm
BB shell width - 68 mm
BB axle length - 115 mm
Front derailleur - down swing, top-pull (with 28.6 mm collar)
Tyre clearance - 2.5"
Available with or without V-brake mounts
Full hydraulic cable guides
Adjustable horizontal slot dropouts
LOGO AND DECALS
If you need to print a new set of stickers for your Balfa, visit common "Logo and frame decals" section.
PHOTOS
LINKS
For more information about Balfa MinuteMan visit: